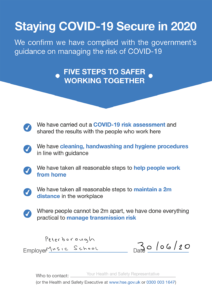 We will be reopening for DRUMS & KEYBOARD lessons on Tuesday 13th April.
Protecting the safety of all our students and their families is our top priority in these challenging times. Please be assured that there will be strict, (temporary) procedures in place to make it safe to return to your music lessons. These procedures are as follows:
If your child or anyone in your household has symptoms of COVID – 19 they MUST NOT attend.
Parents/Guardians will not be allowed in the building.
Students to arrive at the exact time their class starts and get picked up at the exact time it finishes.
Social distancing must be adhered to in the car park by pupils and parents at all times. There will be one way systems in place to enter and exit the building.
Children must sanitize their hands before and after their class. There will be a hand sanitizer station in the main entrance at the bottom of the stairs and inside each studio. Every student will be asked to sanitize their hands when they enter the studio even though they will have already done so when they entered the building.
Upon entering the building students should proceed straight to the studio.
Social distancing must be adhered to at all times.
Classes will be cut to 45 minutes to allow time for the children to leave the premises before other classes arrive and for us to sanitise the studio and wash hands before the next class arrives.
Classes will be limited to a maximum of 4 students for Drums and 5 students for Keyboards. Students will be spaced 2 metres apart within a square marked on the floor. Each student will be allocated a kit/keyboard for the whole lesson. This will be their 'station' and they must stay within their square for the duration of the lesson. No one else is permitted to enter this box.
Tutors will also have a marked area that students cannot enter.
Students must bring their own drum sticks and books as these cannot be loaned out.
Please do not bring coats into the building as the coat hooks will not be in use.
Toilets will be in use but hands must be sanitised before and after use. Toilets will be sanitised in-between each lesson.
If these rules are not strictly adhered to then your child will be asked to leave.