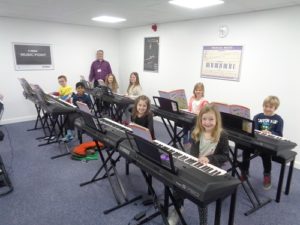 The Yamaha Junior Play For Keeps course provides a fun and stimulating environment in which children can enjoy making music on a keyboard. It is open to beginners aged between five and seven and is designed to take the student to an intermediate level. At this stage they then progress to the Yamaha Play For Keeps course, working towards grade 3.
At the age of five, a child's attention span has started to lengthen and they can stay focused for longer. To further maintain the concentration and motivation for each one hour lesson, the teacher will have prepared many different activities, blending concentration, relaxation, music games, listening, singing and playing.
We believe that music should be fun, but at the same time, children are learning a variety of important musical skills which include pitch, rhythm, harmony, notation and ensemble playing… all skills that are transferable to other instruments too.
Classes are taught in groups of up to 8 children who are of the same standard, and the Yamaha teaching method is based around learning in a group.
As with all of our Yamaha popular music courses, the lessons are taught by fully trained, DBS checked tutors, in modern air-conditioned studios using the very latest Yamaha instruments and equipment. Peterborough Music School is the premier facility for music lessons in Peterborough.
Who can take part?
Children from 5 to 7 years old
Length of lessons:
Size of group:
Pricing: