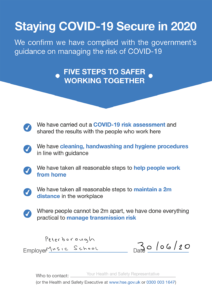 Rising Stars is now reopening on Tuesday 13th April!
Protecting the safety of all our students and their families is our top priority in these challenging times. Please be assured that there will be strict, (temporary) procedures in place to make it safe to return to our Rising Stars studio.
These procedures will be:
Parents/Guardians will not be allowed in the building.
Students to arrive at the exact time their class starts and get picked up at the exact time it finishes.
Children must sanitize their hands before and after their class. There will be hand sanitizer stations at the bottom of the stairs and at the entrance to the studio. (Vicky's studio doors will be propped open at all times.)
Social distancing must be adhered to in the car park by pupils and parents at all times. There will be one way systems in place to enter and exit the building.
Classes may be slightly shorter to allow time for the children to leave the premises safely and for us to sanitise and wash hands before the next class arrives.
Cash payments will not be permitted. Payment will be made through online banking in advance and one month at a time. Every month I will work out how many lessons there will be and you will pay for the month (that will reserve your child's place). This will most likely happen until at least September. Unfortunately during this time, refunds can't be offered if you don't attend the lesson.
Class sizes will be smaller. The dance studio will be clearly marked with where the children must stand to comply with social distancing measures.
There will be no break time and children must bring their own water bottle if they want a drink. (Which will stay with them at all times)
If your child or anyone in your household has symptoms of COVID – 19 they MUST NOT attend.
If these rules are not strictly followed by your child they will be asked to leave.